Sad State of Affairs ..........
Since we had the terrible assualt on the Trade Center in New York City, there have been security concerns throughout the USA and they have impacted no less than ......... our fishing holes here at home in Iowa.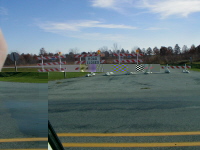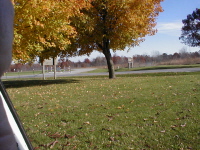 Yes, sir. In the space of one morning, our best fishing hole was closed off and "No Trespassing" signs were put up. There is no hiking, fishing, hunting, strolling through the timbered area since the closing of the outlet to prevent poisoning of the water.
The lake proper can still be accessed but not the areas at the dam/outlet. A highway goes across the dam, of course, but it has been prepared with gates also, and it can quickly be closed off.
So it appears we will become lake fishermen whether we want to or not. I know I certainly enjoyed and preferred the high water and its roiling, fast current as it was going through the "rip-rap" along the banks of the outlet. The walleye sure liked to collect there also along with some other of the fish family.
There were some times when catches were low due to low water but in the main, and especially during the spring months, nice catches could be had by the average fisherman. Good eating fish, too.
As you can see by the above photo, the lake is presently at planned levels or just slightly lower. Generally, the lake is low in the fall of the year and high in the spring from snow melt and the "spring" rains we generally get around here.
Well, lets pray everybody will get all of their problems resolved and we can get back to fishing.
Addendum to story ......
Well, they have got things settled down finally, not back to where they was - they'll never get there again, but they are back to half-way normal now and at least you can access everything and fish. EC 6-14-02