Troy's Fishing .....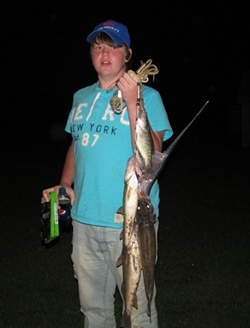 Troy is really doing a good job with the fishing. He goes when he gets a chance and does serious work while he's there. He' turning into something of a woodsman, doing as well with the hunting, trapping as he does the fishing.
He is catching more fish than we can eat.
It's a good deal as it's good for a person to have a hobby that can occupy his spare time.
I think he was there this year when the guy caught the new state record for crappie in Iowa ..... 6 lbs, etc.
That will be an inducement .....
and tying into theses things every once in awhile.
I don't know what the deal is but this is the second one they have brought in this year.
This 'flathead' was the biggest, right at 30 lbs.
We don't eat the catfish and if they can't find someone who wants them, they have been returning them to a waterway somewhere.
It's interesting in that my father and his buddies fished around here (Chariton River) all their lives and never caught anything like this on a hand rig.
They took some big ones on trot lines or 'night poles' but even then, not as big as this one.